OSM Viz
---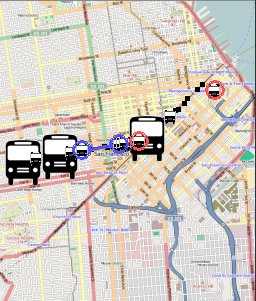 Some buses in San Francisco.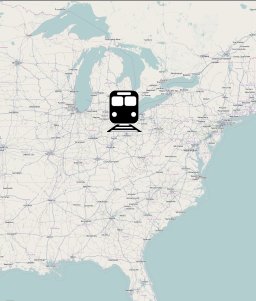 All aboard!
An OpenStreetMap Visualization Toolkit for Python
OSMViz is a small set of Python tools for retrieving and using OpenStreetMap (OSM) images (actually, Mapnik images served by Slippy Map). Its original purpose was to draw a bunch of things moving around on the map, which has been somewhat generalized and expanded.
With OSMViz you can:
Grab appropriate rendered OSM tiles from an OSM server of your choosing
Patch tiles together into a bigger map
Easily animate stuff on that map (requires pygame)
OSMViz is released under the
MIT license
. Currently it supports images using PIL and/or Pygame.
A note about OpenStreetMap maps
If you choose to pull tiles from the openstreetmap.org server, then there are some things you should know:
Using OSM Viz
The code below will show a train running across the USA. Choo choo!

from osmviz.animation import TrackingViz, Simulation

# Northeast
end_lat,end_lon = (30.05,-118.25) # Southwest
begin_time, end_time = 0, 60 # In 60 seconds!

image_f = "images/train.png" 

# Define bounds for the train and zoom level, how much map do we show?

bound_ne_lat,bound_ne_lon = (46,-68.5)
bound_sw_lat,bound_sw_lon = (30,-119)
zoom = 6 # OSM zoom level

# Define an interpolater to create animation points

def locAtTime(t):
    if t &lt 0: return start_lat,start_lon
    if t &gt 60: return end_lat,end_lon
    frac = t/60.0
    interp_lat = start_lat + frac * (end_lat-start_lat)
    interp_lon = start_lon + frac * (end_lon-start_lon)
    return interp_lat,interp_lon


# Create a TrackingViz

viz = TrackingViz("Continental Espresso", image_f, locAtTime,
                   (begin_time,end_time), 
                   (bound_sw_lat,bound_ne_lat,bound_sw_lon,bound_ne_lon), 
                  1) # Drawing order

# Add our TrackingViz to a Simulation and then run the simulation

sim = Simulation([viz,],[],0) # ([actor vizs], [scene vizs], initial time)
sim.run(speed=1,refresh_rate=0.1,osmzoom=zoom)


While the animation is running, you can control it as follows:
Mousing over the icon displays its label ("Continental Espresso")
Up/down arrows increase/decrease the speed of simulation (can go backwards in time)
Left/right arrows set simulation to begin/end of the time window
Space bar sets the speed to zero
Escape key exits.
To run it yourself you need to have an existing "images/train.png" as well as an empty "maptiles/" directory. These already exist in the "test" directory in the source download; in fact one of the included tests is to show the same train.
Requirements
Python (tested using Python 2.5.x)
Animations require Pygame (tested using Pygame 1.9.1)
Image construction requires PIL (tested using PIL 1.1.6)
Links